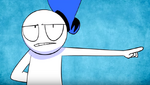 "Its that small!"
This article is a "stub". This means this article is less than 300 bytes, and is in need of detail and information. Help out the Super Planet Dolan Wikia by
editing it
!
"I'm Nixxiom, Danger Dolan asked me to read out some things that aren't true, but it's supposed to be convincing, he told me not to tell you, but I feel you should understand what you're in for."-Nixxiom, introducing himself for the first time on Super Planet Dolan
Nixxiom
is a character in
Planet Dolan
and
Super Planet Dolan
.
Ad blocker interference detected!
Wikia is a free-to-use site that makes money from advertising. We have a modified experience for viewers using ad blockers

Wikia is not accessible if you've made further modifications. Remove the custom ad blocker rule(s) and the page will load as expected.